54' Wm. Garden design "Coastal Express"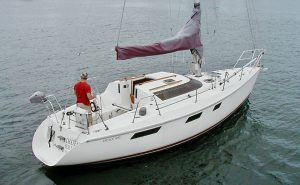 We are selective about the vessels we accept into our program, and we pursue a very rigorous process before they are listed for sale.  This begins when we first meet with our donors to inspect their boat and discuss the condition and upkeep. 
Once accepted, each new arrival undergoes a thorough examination, like what a marine surveyor will do.  This allows us to prioritize our attention to any deferred maintenance or repairs that may be needed.
Over the years we have performed just about every kind of marine repair, from rebuilding engines and electrical and plumbing issues to all types of aesthetic enhancements.  If something is not working right, we fix it, simple as that.  We prove that her mechanical, electrical, and plumbing systems are correct, safe and functioning properly.  This also helps increase the value of the donated boat to your benefit as a donor as well.
Doing all of this to our donated boats means that we know them from top to bottom and present them fairly and honestly to buyers
We encourage our buyers to have our boats professionally surveyed as a part of their purchase process.  By the time we're finished our work and the boat is advertised, we are confident they will receive a strong report from their surveyor.