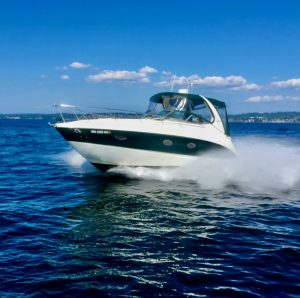 With a paid and volunteer group of accountants, lawyers, marketing professionals and managers, the foundation has successfully completed many hundreds of boat donations that have benefitted both the donors and youth programs we support.
Pacific Marine Foundation is committed to providing a fast and professional service; we're knowledgeable in all aspects of charitable donations and the applicable tax regulations. We strictly adhere to the published IRS guidelines and are pleased to report that not a single donor has encountered inquiries concerning their contribution to our organization.
Image – 31' Maxum 3100 SCR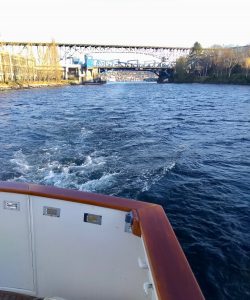 Our foundation allows other nonprofit groups to utilize the benefit of gifts made to us. By concentrating our efforts in the Pacific Northwest, and by continuing to broaden our network of generous individuals like you, we  provide meaningful financial assistance to regional non-profit organizations.
While the Pacific Marine Foundation receives many generous donations from individuals, we can also receive specific grants and in-kind donations of equipment and gear, potentially satisfying distribution requirements for other donor foundations as well.
While cash donations are greatly appreciated, the Pacific Marine Foundation can also accept gifts of publicly traded securities. A donor can deduct the fair market value of the security as of the date of donation. There are limitations to securities donations, so we always recommend consulting a professional tax advisor.
Image – Headed home in Ballard
Below are some of the organizations we have supported
Along Portage Bay in Seattle
Sail Sandpoint Youth Program
Washington Sea Scouts
Boys and Girls Club of Whatcom County
Bellingham Public Schools Foundation
Western Washington University Foundation
Port Hadlock Youth Sailing Program
Homeport Learning Center
Port Townsend Wood Boat Center
Swan Children's Theater
NAWA Academy, San Francisco
The Opportunity Council, Whatcom County
Seattle Girls' Choir
Northwest Schooner Society
Gig Harbor Boatshop
California Sea Scouts
Seattle Youth Symphony
Whatcom Symphony Orchestra
Seattle Public Schools
Center for Wooden Boats
The Marrowstone Music Festival
Broad Reach Youth Foundation
Columbia Gorge Youth Sailing Program
NorthWest Choirs
Oceans4Ages Environmental Program
University of Washington
Bellingham Bay Community Boating Center
Allied Arts of Seattle
Port Steilacoom Maritime Museum
OAR Northwest
Seattle Education Foundation